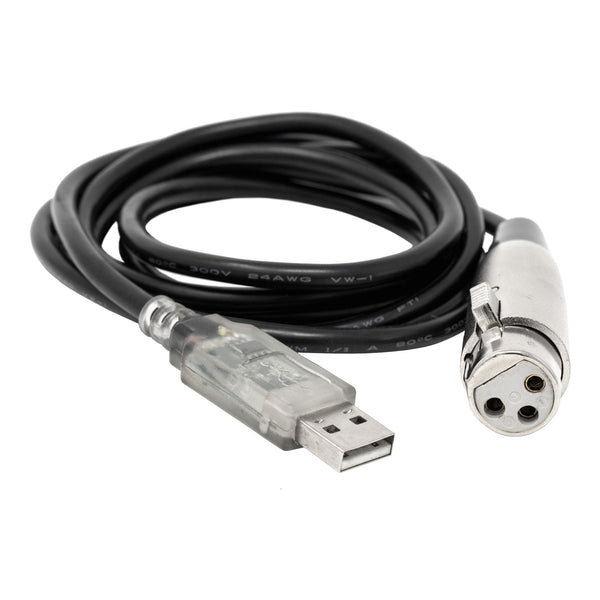 EzDMX hardware is a proprietary cable that works with our EzDMX software to give any performer complete control over theatrical lighting, moving lights, dimmers, par cans, special effects, and much more. The software is user-friendly, so that you will be up and running in a matter of minutes.

The software is free to download, but you will need our proprietary EzDMX hardware cable to use our software with your DMX fixtures. The cable is a USB-A to DMX-Female. Please note generic cables will not work with our software. Once you have downloaded the software and plugged in the EzDMX cable, you will notice the LED light rapidly blinking on the USB side of the cable. This is to let you know the connection has been made, and the DMX signal is being sent out of the cable.

Scenes are very easy to create with features allowing you to rapidly control multiple channels simultaneously. Editing is painless, with a clear visual representation of the scene as a whole through a timeline. Each scene can perform a fade for a smooth transition instead of an immediate blackout. Enable macros with one simple button or integrate your entire show through our MediaStar Pro software for complete live show control.

EzDMX has been integrated and designed to work in tandem with our MediaStar Pro software and has the ability to control one universe of DMX (512 channels), up to 384 macros, and an unlimited number of scenes and venues.
Controls our proprietary DMX hardware
Very user-friendly, no steep learning curve

 

One universe of DMX (512 Channels)
Up to 384 macros per venue
Unlimited scenes
Unlimited venues
PLEASE NOTE: WE HAVE LIMITED SUPPORT ON THE FREE SOFTWARE.